Halfway through the week, people! We can do this! Lot's going on so I'm linking up with the lovely and hilarious Shannon.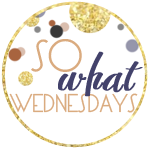 This week I'm saying So What if....
- I've driven to Starbucks for coffee twice this week in my pjs, no bra, teeth not brushed. Early mornings call for desperate measures! It was drive-thru and I went straight home to work on studying (Monday) and an online test (today).
- every time I hear that Ariana Grande's song "The Way" I think it's mid-ninties Mariah Carey. Tell me you don't think the same thing?? (I can't figure out how to put a song in the post and I'm running late, but just google it!)
- I spent valuable study time on Monday evening spending time with this adorable little man. It's my version of YOLO. I will not remember the grade I got on one test but I will remember the time spent with this sweet boy and my wonderful friend.
- after swearing off the Reese's from Halloween they devils showed up at babysitting last night. Chocolate and peanut butter was good enough but dark chocolate and peanut butter? Let's just say thank goodness the bag hadn't been open yet.
- I still want to wear UGGs even though most people think they're UGGly in addition to the recent accusations the company is under regarding their practices. I probably won't purchase additional pairs but I can see the value in throwing away shoes that I like, there are expensive, and that are so comfortable. Read Jesi's post for more info. And oh yeah, UGG tweeted us so we're basically famous.
Running late! Any other good exchanges going on for the holiday season?
Cait