Good morning! And HAPPY TUESDAY! Because Tuesday is almost Wednesday which is halfway through the week and it's kind of like we can round up and say it's Friday, right? Yes?? Alright, glad we got that settled.
Next up? I got myself a BlogLovin button (as seen to your left and at the bottom of the post). Pretty darn proud of myself. But that's not all! I'm also joining my first link up with Rachel at Postcards from Rachel and Northern Belle Diaries to honor my fancy little new button. Be sure to stop by and

check it out!
So, Sunday night I stayed up later than I wanted (close to 1am - why do I do this to myself??) but still made time to get up sort of early Monday to work on my new resolution...
I'm vowing to wake up at

5:00am

(or close to that) every weekday so I can....
have time to myself
read blogs
post on my blogs/others' blogs
wake up slowly
and...

maybe workout!
It seems that quite of few of you successful bloggin' ladies do this and it works, so I figure it can't hurt to try it. Plus, I'm sick of always running around like a chicken with my head cut off in the mornings because I've snoozed my alarm for 30 minutes an hour. At least.
Alright, let's back up a little bit....
I was dog sitting this weekend (something I do, along with babysitting, to make extra moolah) and it kind of wears me out. Not the actual dogsitting, but I stay overnight there and it's not in my 'hood so I a) miss my man, b) miss my pups, and c) had to bring a shit ton of stuff with me so I could work out and eat clean. Seriously, a huge ol' bag of Spark/Magic Bullet blender/gluten-free wraps/hummus/Think Thin bars/veggies/fruit/water bottles. You get the picture.
But Sophie and Izzie are easy to take care of and great dogs. Plus it's good money. I'll chalk that up as a win!
Saturday I built put together a buffet for our dining room. I've been on the hunt for a piece of furniture for our dinner room for a while since we just have a table and chairs in there and I've been storing a lot of crap there since I moved in last summer. I finally found what I wanted at Target (love that place!) but you know that no trip to Target is ever that easy! I talked about it in Friday's post but needless to say, I came home with way more than just the buffet.
I get a real satisfaction from putting something together, so while I could have waited until B was home, I tackled it on my own. I'm very impressed with the quality of the piece and now I'm just perusing Pintrest to figure out how I want to style it. Here it is, currently naked, in our dining room.
It's close to the table now, but we'll take the leaf out and then everything will be A-Okay!
With the bookcase built, I went to our staff picnic. It's a really fun event every year but Mother Nature got a little cray over the weekend so we left early. The only picture I have is this one of my coworker's adorable daughter, Ellie.
The sun never sets on a badass.
And here's what I dealt with on my 90 minute drive across Houston - it was only 24 miles people! Shit got crazy and I'm thankful that my mom's little Hybrid Camry was a beast through all the flooded areas! I keeked about how HANGRY I was so... check that out too

!
This is the only picture that I took that came out. But if you want to see some crazy pics/videos, check out grrfeisty's blog - she and her fiance got stranded a mile from home with 2 dogs and had to walk!
Lastly, I'm participating in the May Meltdown with Ms. Michaels starting TOMORROW (May 1st)!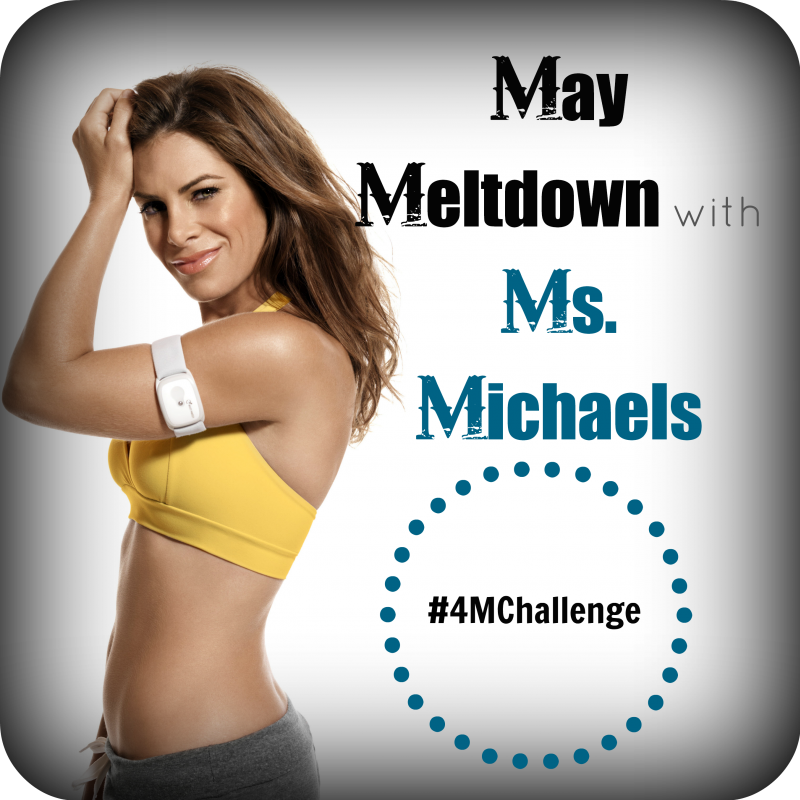 The challenge is to workout with Jillian Michaels everyday for the month of May (hey, that rhymes!). Mrs. Elle Noel and some other wonderful bloggers (Kate, Kara & Kristie, Meredith, and Kassie) came up with this challenge and I'm super pumped about it. I recently instagrammed and blogged about how I just got the JM 30 Day Shred and I've done it a few times but not daily. So that's the JM torture I'll be enduring. Hopefully I can get a post up Wednesday with some measurements and pre-pictures.
Have a great day! Leave my some blog love or follow me on BlogLovin!
xoxo,
YFG